It was lovely to meet with Chris Daykin this week, Corporate Fundraising Manager for Support Dogs, an amazing Sheffield based charity dedicated to increasing independence and quality of life for adults and children with various medical conditions by providing, training and supporting specialist assistance dogs such as Kevin here!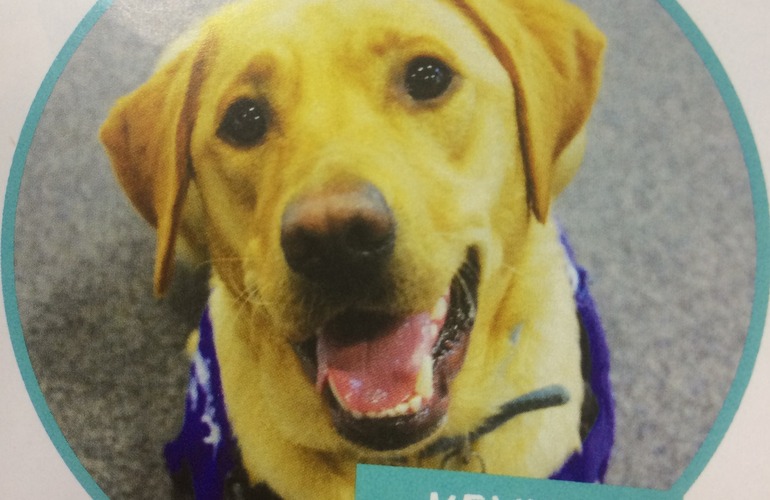 Chris, who is clearly passionate about the charity, explained how the charity worked, the type of people it helps and how it really does change the lives of individuals and their families.
The charity specialises in three specific programmes:
Autism assistance dogs - for children with autism. The dogs are trained to provide safety for the child and reduce stress in social environments.
Seizure alert dogs - for people with epilepsy. Our dogs are trained to provide a 100% reliable, up to 50 minute warning prior to the onset of an epileptic seizure. This enables the client to find safety and be in control over their seizure, allowing a much more independent life.
Disability assistance dogs - for people with physical disabilities. The client's own pet dog is trained to perform tasks which are specifically tailored to their individual needs; providing them with greater independence and safety.
The Charity sources dogs from a wide range of backgrounds including rescue centres across the UK as well as reputable, well-established breeders. The welfare and training of all their assistance dogs is of paramount importance and training consists entirely of positive, reward-based techniques. All support dogs receive regular health checks and assessments throughout their working lives and retire at the age of ten, ensuring they are healthy enough to enjoy a well-deserved retirement.
We look forward to visiting Chris and the team at Support Dogs in Sheffield come the New Year, to see first-hand what these special dogs are capable of.
Learn more about Support Dogs
Back to blog